Colombian military kills 10 Farc rebels in bombing raid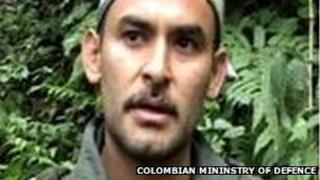 The Colombian military says it has killed at least 10 members of the left-wing Farc rebel group in an operation in central Meta province.
Among the dead was a regional commander of the rebels, known as Jhon 26.
Defence Minister Juan Carlos Pinzon said the attack had dealt a significant blow to the guerrilla group.
Government and Farc negotiators are holding peace talks in an effort to end 50 years of conflict but the government has refused to enter into a ceasefire.
The rebels declared a one-month unilateral ceasefire from 15 December but Mr Pinzon said the security forces would continue to target the rebels until a peace deal had been signed.
Extorting cattle ranchers
He said locals had tipped off the security forces about a rebel camp in a remote mountainous area of central Meta province.
Colombian air force planes found the camp and "neutralised" it, the defence minister said.
Army units have since searched the area and found six bodies, but they say at least four more rebels died in the attack.
They say Pedro Lain Parra Suns, better known as Jhon 26, was among those killed.
Jhon 26 - who had been part of the Farc for 15 years - was a key figure in the group's eastern command, officials say.
He is accused of extorting and kidnapping local cattle ranchers and businessmen for ransom.
Under his leadership, the rebel group he led became one of the main sources of income for the Farc's eastern command, the defence ministry said.
He is also accused of being the mastermind behind a number of attacks on police stations and civilians in the area.
Negotiations
The Farc rebels entered into peace negotiations with the government more than a year ago.
So far, they have reached agreement on two main issues - land reform and the political participation of the rebels - from their six-point agenda.
The Farc have repeatedly urged the government to enter into a bilateral ceasefire but Defence Minister Pinzon says the guerrilla would only use it to re-group and re-arm.
Victims' groups say more than 220,00 people have died in the five-decade long conflict.