Uruguay Senator Jorge Saravia injured in house robbery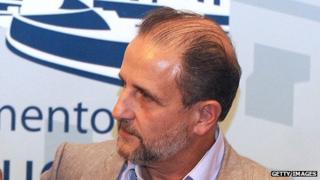 Uruguayan senator and presidential candidate Jorge Saravia has sustained a head injury in a robbery.
Mr Saravia, 55, was pistol-whipped by robbers who had broken into his home on the outskirts of the capital, Montevideo.
The senator says the robbers shot at his 25-year-old daughter at close range, but missed.
Mr Saravia says there was an exchange of fire between him and the three men, who eventually fled.
Police are searching for the robbers, who wore ski masks and gloves.
"They split my skull open when they whacked me over the head with a pistol butt," Mr Saravia told local media.
"We had a hand-to-hand combat and exchanged fire," said the senator, who described reaching for his gun after having been hit over the head.
"They shot at my daughter, they took aim and shot from a distance of only 2m (6.5ft), but luckily they missed," Mr Saravia said.
"The shoot-out carried on until we ran out of bullets."
Mr Saravia, of the National Party, announced this year that he would run for the presidency in October 2014 for the opposition National Party.
However, opinion polls suggest he has little chance of winning.