Brazil president pledges aid after deadly floods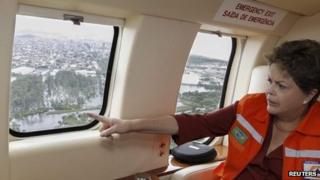 Brazilian President Dilma Rousseff has pledged millions of dollars in federal aid to two south-eastern states where floods have killed at least 30 people.
After flying over the area, she said helicopters and army trucks would deliver food and medicine to the states of Minas Gerais and Espirito Santo.
A number of homes, roads and bridges were destroyed and many cities were left without power and drinking water.
The floods, caused by days of rains, are feared to be the worst in 90 years.
On Tuesday, Ms Rousseff was flown by helicopter to gain first-hand information of the damage.
She said she had never seen such flooding before and promised to rebuild the affected areas.
Many of those who died are thought to have been trapped in landslides triggered by the torrential rains and floods.
There are fears that the death toll may rise further.
Some 50,000 people have been forced to flee their homes, local media report.
Espirito Santo Governor Renato Casagrande said the floods were the worst in the past nine decades.
In January 2012, floods and landslides killed at least six people and forced thousands from their homes in Minas Gerais.