Nicaragua extradites 18 Mexican drug traffickers who posed as TV journalists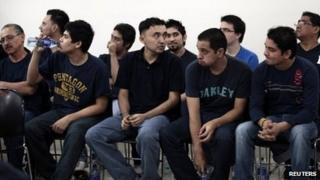 Nicaragua has extradited 18 Mexicans who posed as television journalists to smuggle more than $9m (£5.5m) into the country, officials say.
The Mexicans were arrested last year when they tried to enter Nicaragua pretending to work as reporters from Mexico's Televisa network.
Police found the cash and traces of cocaine hidden among their television equipment.
A Nicaraguan court found them guilty of drug-trafficking and money laundering.
Last January, a Nicaraguan judge sentenced the 17 men and one woman to 30 years in jail, but the sentences were reduced to 18 years on appeal.
As they were led on to a plane in the capital, Managua, Nicaraguan police spokesman Ramon Avellan told reporters that they would serve their sentences in Mexico.
Fake press cards
The group was arrested in August 2012 as it tried to cross the border into Nicaragua from Honduras.
Police said the fake TV crew was travelling in six vehicles, some painted with Televisa logos, and carrying fraudulent press passes.
But as soon as the arrests were announced, the Mexican broadcaster denied it had sent any journalists to Nicaragua.
Prosecutors said the Mexican nationals belonged to a "highly organised" criminal group that trafficked "large quantities" of drugs between Costa Rica and Mexico.
Mexican drug cartels use Central America to transit cocaine from South America and onto more lucrative markets in the US .