Chile Caravan of Death: Eight guilty of murder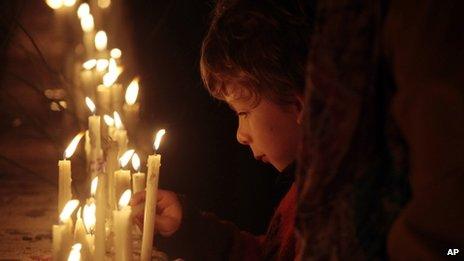 A judge in Chile has found eight former members of the military guilty of murdering political opponents during the rule of Gen Augusto Pinochet.
The accused were part of the Caravan of Death, a military operation thought to have killed almost 100 opponents of the 1973 military coup.
They were sentenced to between three and 15 years in jail for killing 14 people in the northern city of Antofagasta shortly after the coup.
The ruling can be appealed against.
The Caravan of Death was a "delegation" of military men sent to Chile's provincial towns by Gen Pinochet, the leader of the 1973 coup.
Gen Pinochet said there would be no mercy for "extremists", and was reportedly annoyed by news that some commanders in provincial towns had been "soft" on political opponents.
He despatched an army unit under the command of Gen Sergio Arellano Stark to impose "uniform criteria in the administration of justice to prisoners".
The unit, which came to be known as the Caravan of Death, travelled from town to town in a Puma helicopter, armed with grenades, machine guns and knives, killing opponents of the coup.
It arrived in the northern city of Antofagasta, where on 19 October 1973 it ordered that 14 political prisoners held there be taken to a ravine.
There, the men were executed by firing squad. The prisoners had been tried and convicted by military tribunals but not yet sentenced.
The Caravan of Death landed in 16 towns in the north and south of Chile and killed 97 people between 30 September and 22 October 1973, according to figures compiled by the NGO Memory and Justice.
Marcos Herrera Aracena, who worked as a military prosecutor in Antofagasta when the army unit arrived, told a court in 1999 what Gen Arellano had said about his mission.
"General Arellano informed me that what Pinochet wanted was to bring an end to the remaining legal processes... In other words, finish with them once and for all."
Gen Arellano was sentenced in 2008 to six years in prison for his role in the Caravan of Death, but he was spared jail when he was diagnosed with Alzheimer's.
According to official figures, 40,018 people were victims of human rights abuses under the dictatorship and 3,065 were killed or disappeared.