Chile court orders tsunami compensation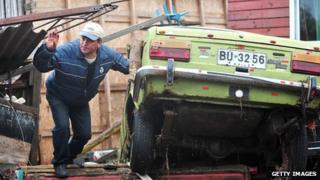 Chile's Supreme Court has for the first time ordered the state to pay compensation to the relatives of one of the victims of the 2010 tsunami.
The BBC's Gideon Long in Santiago says the ruling could set a precedent for hundreds of other compensation claims.
More than 500 people died in the February 2010 earthquake and the tsunami that followed it.
Coastal villages were hit by enormous waves after the government lifted an initial tsunami warning.
The court ordered the state to pay the widow, children and grandchild of Mario Ovando, who lived in the southern port city of Talcahuano, 55m pesos ($100,000; £63,000).
The court heard that following the earthquake, Mr Ovando had heard an announcement on the radio that there was no danger of a tsunami.
On the basis of that he decided to stay in his home.
However, 20 minutes later his house was engulfed by huge waves.
Although his relatives managed to free him and take him to hospital, Mr Ovando died three days later.
The Chilean Navy - which runs the Hydrographic and Oceanographic Service - admitted after the tsunami that it had made errors in its diagnosis and had given unclear information to government officials.
The government issued an alert, then deactivated it, then revived it only after the deadly waves had struck.
Many families of victims have filed lawsuits against the Chilean state claiming that the misinformation led people to make the wrong decisions.
The earthquake and tsunami left more than 800,000 people homeless.