Cuba loosens restrictions on buying foreign-made cars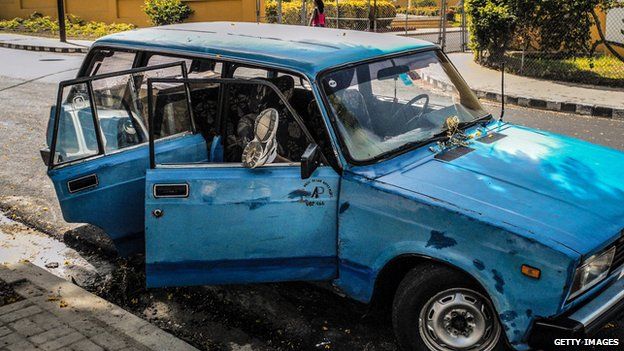 Cuba is loosening restrictions on people buying foreign-made new and used cars, according to state media.
Cubans will no longer need government permits to buy modern cars from state sellers.
Until new regulations in 2011, people could only sell cars built before the 1959 revolution.
Private property has been severely restricted on the Communist-run island since 1959. The changes are part of a shake-up of Cuba's struggling economy.
Following reforms adopted two years ago, Cubans can buy and sell used cars from each other, but must request authorisation from the government to purchase a new vehicle or a second-hand one from state-controlled retailers.
Priority for the permits was given to people "in positions of benefit to the government", such as doctors and diplomats.
But the Communist Party newspaper, Granma, said the Council of Ministers approved new regulations on Wednesday that "eliminate existing mechanisms of approval for the purchase of motor vehicles from the state".
As a result, the paper said, "the retail sale of new and used motorcycles, cars, vans, small trucks and mini buses for Cubans and foreign residents, companies and diplomats is freed up".
People who already have permits are expected to be given priority, however. And buyers will still need to purchase vehicles through state retailers.
Cubans and foreigners will not be able to import their own cars.
The new regulations will be published in the official Gazette in the coming days and become law 30 days later, according to Reuters.
"Yeah, I can buy it, but with what? Unfortunately our economy doesn't allow us to save money to be able to buy it," the news agency quoted Havana resident Jorge Canso as saying.
The move is part of a series of reforms driven by President Raul Castro aimed at updating the Cuban economic model.
Raul Castro has championed limited free-market reforms since taking the reins of power from his brother Fidel in 2008.