Pope meets Argentine football champions San Lorenzo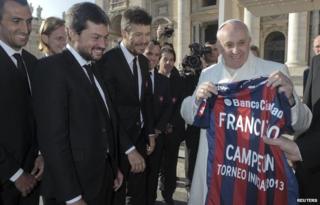 Pope Francis has met players from his favourite football team, San Lorenzo, to celebrate their victory in the Argentine top division.
He held up a replica of the trophy on the steps of St Peter's Basilica and was presented with a team jersey.
The jersey has the words Francisco Campeon (Francis Champion) emblazoned on the back.
Pope Francis has been a supporter of the Buenos Aires football team since he was a boy.
San Lorenzo won the Torneo Inicial championship after a nil-nil draw against Buenos Aires rivals Velez Sarsfield on Sunday.
A small group of San Lorenzo players and officials met Pope Francis at the end of Wednesday's general audience.
Team members said Pope Francis told them he would visit his native Argentina in 2016 for the 200th anniversary of the country's independence from Spain.
The Pope is a sports fan, who played basketball as a young man.
He has repeatedly spoken of the spiritual values of team sports, telling the rugby squads of Italy and Argentina that "rugby is like life because we are all heading for a goal, we need to run together and pass the ball from hand to hand until we get to it".
But he has in the past warned that looking for profit and victory at any cost risked reducing athletes "to mere trading material".