Biggs in Brazil: Ambiguous reputation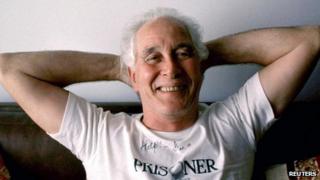 Ronnie Biggs enjoyed an ambiguous status in Brazil's sunshine.
Despite his role in a notorious crime in the UK, he settled comfortably into a celebrity lifestyle in Rio de Janeiro.
Photographs of a bronzed figure basking in the sun on Rio's expansive beaches would serve as an irritant for the authorities back home.
And it was even more galling for the family of Jack Mills, the train driver struck over the head in the robbery, who died years later having never worked again.
In Brazil, however, there was little animosity and much curiosity about the famous English robber who would hold court in the bohemian district of Santa Teresa.
'Odd man out'
In 1994 he would be happily pictured, his fingers in a victory sign, launching his biography Odd Man Out.
When it had emerged that he had fled to Brazil, tabloids and tourists would beat a path to his door, as Biggs managed to capitalise on his ambiguous reputation.
The fame spread to his family - his son Michael would later enjoy celebrity status as part of the hugely successful children's pop group Balao Magico (Magic Balloon).
There could be little surprise that Biggs chose to flee to Brazil in the early 1970s, a country which he made his adopted home until 2001.
South America's largest country was then a military dictatorship and there were other more pressing issues to deal with than a fugitive British train robber.
The region was viewed as an attractive bolt hole for a variety of fleeing criminals and, in some cases, even former Nazis.
In a manoeuvre worthy of a soap opera, Biggs managed to evade extradition to the UK in 1974 when he announced that his Brazilian girlfriend was pregnant.
Cashing in
The path was set for a Ronnie Biggs mini-industry with tourists paying for photographs, lunches with the British fugitive and even mugs adorned with his image.
Santa Teresa, home to artists and alternative lifestyles and with a stunning view over Rio, was a comfortable backdrop for a man who even featured on a Sex Pistols record.
Legend had it that the Rolling Stones had tried to seek him out when on a visit to Rio.
In another soap-opera-style twist, there was even an attempt to kidnap him by a group of British ex-soldiers who got as far as Barbados before a legal loophole helped Biggs escape again.
Back to jail
When he decided to return to the UK in 2001, the Brazilian writer Mario Prata reflected on the curious mix of views that the fugitive Briton attracted.
"For a while now I've been admiring Ronald Biggs' cleverness. Everything he did in life - honestly or dishonestly, he did wonderfully," Mr Prata said.
"When he left Rio this Sunday, hugging his Brazilian granddaughter….he cried. I think he was crying not just because he was leaving his granddaughter and his son, but because he left this country, which was so good to him.
"Even as a criminal, he was treated here as a senator, unpunished and untarnished."
It was not a view shared by the British authorities and on his return to the UK, Biggs was unceremoniously returned to jail.
There must have been times in his prison cell, when his mind returned to the warmth of his adopted city that made him so welcome for so long.
And it is perhaps not a surprise that his family is said to have plans to scatter some of his ashes in both the UK and Brazil.