Brazil court saves 2012 football champions from relegation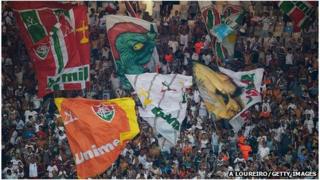 A controversial ruling by Brazil's Superior Court of Sporting Justice has saved last year's football league champions, Fluminense, from relegation.
The decision to deduct four points from Portuguesa for playing a suspended midfielder means the Sao Paulo club will drop into Serie B instead.
The controversy has polarised football fans across the country in recent days.
Many argue Portuguesa's punishment was too harsh, but the judges said ignorance was no defence.
Portuguesa's president, Manuel da Lupa, vowed to appeal against the decision and even to take the case to the world football governing body, Fifa.
"Portuguesa will fight until the end. We will appeal. We can't give up our rights. We'll take this as far as Portuguesa's rights go," Mr da Lupa told the Brazilian sports TV channel Sportv.
The Brazilian football league season ended just over a week ago, with Cruzeiro winning the title and two big clubs from Rio de Janeiro relegated: Vasco da Gama and Fluminense, winners of four league titles each.
'Ignorance not an excuse'
But Brazil's football governing body, CBF, took action against Portuguesa for having illegally used a suspended player as a substitute.
The Sao Paulo side argues it did not know he was suspended and his use as a substitute was a genuine mistake caused by miscommunication between a lawyer representing the club and the team.
"It's no excuse for them to say they didn't know," said judge Paulo Valed Perry.
The controversy has divided football fans across the country with many saying it would be unfair for Fluminense to stay in the top division.
On social media, many opposed the decision in favour of the Rio side, which has twice before escaped relegation after changes in the regulations.
Even football luminaries like 1970s World Cup champion Tostao took part in the discussion. He defended Portuguesa, saying common sense and justice should prevail over the regulations.
Meanwhile, Vasco da Gama's poor season's end continued when Japanese car maker Nissan said it would end a sponsorship deal with the club, following violence at their final league match against Atletico Paranaense.
Four people were injured when hundreds of Vasco fans attacked Paranaense supporters, while their team lost 5-1 and were relegated.
Nissan said "these acts of violence are incompatible with the values and principles supported and defended by the company across the world".