Brazil World Cup 2014: Court halts stadium construction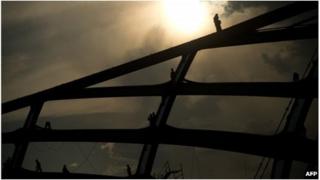 A court in Brazil has halted construction work at the World Cup stadium in the city of Manaus, where a builder fell to his death from a roof.
The Prosecutor's Office had demanded the suspension until contractors Andrade Gutierrez presented a detailed report on the site's safety conditions.
The man plunged more than 30m (98ft) to his death from a roof at the Arena da Amazonia building site.
Half of the 12 stadiums being built for the tournament are behind schedule.
Working conditions are "unacceptably dangerous" and the contractors could be fined, authorities say.
In an interview for Brazilian TV channel Globonews, the prosecutor Jorsinei Dourado do Nascimento said the company had already been informed of the court's decision.
"As of noon today [Sunday] the work is banned," he said.
Mr Nascimento's request for activities to be suspended was presented late on Saturday.
'Cost of life'
"The Public Prosecutor's Office cannot allow the urgency of finishing construction for the 2014 World Cup to be at the cost of the life and well-being of those working on it," the request read.
Work had already been suspended until Sunday after the death of the builder by Andrade Gutierrez. The contractors said they had opened an investigation.
But with the court decision, if work is carried out at the site on Monday, the firm could be told to pay fines of up to $43,000 (£26,000).
Marcleudo de Melo Ferreira, 22, died in a hospital in Manaus after the fall.
Hours later, another worker died of a heart attack at a nearby site. His family said he was overworked.
The builders' union is discussing whether to strike over working conditions.
The stadium in the Amazonian jungle city is where the England team will open their 2014 World Cup campaign, playing against Italy.
It is also set to host the United States against Portugal.
Several construction workers have now died at venues connected with the World Cup as Brazil rushes to complete its stadiums on schedule.
Two were killed in an accident on 27 November when a crane fell and destroyed parts of Sao Paulo's Arena Corinthians, which will host the opening game on 12 June.
That accident delayed the stadium's completion date by several months. It is now expected to be ready in mid-April.