Deadly Argentina looting spreads as police go on strike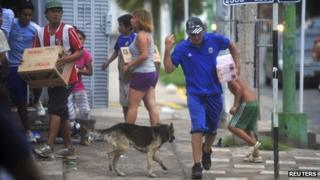 At least five people have been killed as looting spreads through Argentina.
Hundreds have been injured as people took advantage of a police strike to rob shops and homes.
Police have refused to go on patrol until their demands for a salary rise are met.
Their move follows a police walkout in Cordoba province last week which also led to lootings, and which was settled after the governor almost doubled officers' pay.
Widespread unrest
Seventeen out of Argentina's 23 provinces have been affected.
In 10 provinces police remain on strike, while in another seven, officers say they may have reached a deal.
The governor of Buenos Aires, Argentina's most populous province, managed to avert a strike by agreeing to almost double the entry-level salary of the police to 8,500 pesos (£830; $1,360) a month.
Nevertheless, thousands of shops closed early for fear of that looting would spread to the capital.
On Sunday night, a young man was electrocuted in the city of Concordia, in north-eastern Entre Rios province, when he came in contact with loose cabling in a looted shop.
Another man was killed in the north-western province of Jujuy, and three more were shot dead in the city of Resistencia in north-eastern Chaco province.
All of the deaths occurred inside stores which were being ransacked.
'Treason'
The government said the lootings were being co-ordinated "by political forces" through social media and blamed the opposition for the unrest.
Cabinet chief Jorge Capitanich described the unrest as "treason" aimed at spreading fear and chaos on the eve of the 30th anniversary of Argentina's return to democracy on 10 December 1983.
Justice Minister Julio Alak warned police officers who had walked out that the justice system would "come down hard on those who are not carrying out this essential service".
He also said that those who were behind the violence would be charged.
Police said entry-level salaries of below 6,000 pesos a month were not sufficient to keep up with Argentina's rising inflation and consumer prices.
But Mr Capitanich called on them to resolve their grievances through dialogue rather than "holding governors to ransom".
The International Monetary Fund (IMF) has accused Argentina of not providing accurate inflation figures.
Some analysts say the rate could be as high as 25%, but the government says it is less than half that.
Officials said on Monday that a new consumer price index would be published in February.