Deadly Colombia bomb attack blamed on Farc rebels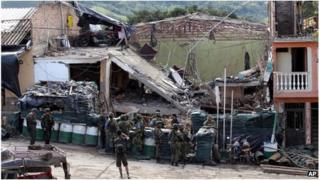 At least eight people were killed when a car bomb exploded outside a police station in Colombia, authorities say.
Officials said the country's largest rebel group, the Farc, was behind the attack in south-western Cauca province.
The vehicle exploded just as locals were gathering for a farmers' market in the town of Inza on Saturday.
The Colombian government and the rebels are currently holding peace negotiations in Cuba in an effort to end 50 years of armed conflict.
An estimated 220,000 people are believed to have died as a result of the conflict.
'Demented attack'
Officials said five soldiers and one police officer were among those killed in Saturday's bombing, which President Juan Manuel Santos described as "cowardly" and "irrational".
"What happened in Inza, Cauca, is a demented terrorist attack," he said.
Local reports described how the attackers fired home-made mortars at the police station, which collapsed as a result of the combined bomb and missile blasts.
The Farc rebel group and government negotiators are holding peace talks in Cuba.
So far, they have reached agreement on two issues on their six-point agenda.
The latest round of talks is due to tackle illicit drugs and drug trafficking.