Brazil World Cup: Opening match venue 'ready mid-April'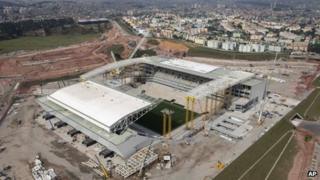 World football's governing body Fifa has admitted that the stadium where the opening match of the 2014 World Cup is due to be played in Sao Paulo will not be ready until April.
"We have received information that it will be ready on 14 or 15 April," said Fifa president Sepp Blatter.
But he reaffirmed that "there's no plan B" and the opening match will go ahead as planned in Sao Paulo on 12 June.
Five other stadia are still under construction.
Two people died last week at the opening match venue - Sao Paulo's Arena Corinthians, or Itaquerao - as a construction crane collapsed.
But Mr Blatter said the venues will be ready in time: "We believe it is a question of trust. It will be done."
He was speaking at Costa do Sauipe, a seaside resort in Bahia state where on Friday Fifa will carry out the draw that will define the groups for the opening stage of the World Cup.
'Late bride'
On Thursday, Brazil's Sports Minister Aldo Rebelo said six venues - in Sao Paulo, Curitiba, Porto Alegre, Cuiaba, Manaus and Natal - would miss Fifa's original 31 December deadline and only be ready in January.
Brazil's other six stadiums, including a revamped Maracana stadium in Rio, were opened ahead of last June's Confederations Cup.
The Brazilian government's preparations for the World Cup have been repeatedly criticised, as they have run over budget and behind schedule.
Speaking on Wednesday, Mr Rebelo compared the World Cup preparations to organising a wedding.
He said: "In every wedding that I attended the bride was late. I've never seen a bride arrive on time - but never saw a marriage that didn't go ahead."