Argentine police secure pay rise after strike in Cordoba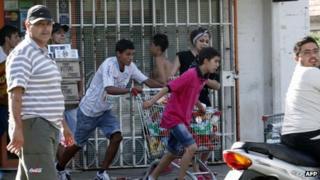 The authorities in the central Argentine province of Cordoba say they will meet demands by police officers for a substantial pay rise.
The offer follows a night of looting in the provincial capital by residents who took advantage of the police going on strike to demand higher wages.
More than a thousand shops were ransacked and one man was killed.
Cordoba Governor Jose Manuel de la Sota said the province's police force would now be the best-paid in the nation.
Two-hundred people were injured, 11 of them seriously, as gangs looted shop and vigilante groups formed to defend neighbourhoods left without police protection as a result of the strike.
Local media described the situation in Argentina's second-largest city, Cordoba, on Tuesday night as "chaotic" and "anarchic".
Governor de la Sota, a political rival of President Cristina Fernandez de Kirchner, said the situation could have been avoided had the federal government sent the national police force to patrol the streets.
Banks, schools and petrol stations remained closed and public transport was suspended on Wednesday after gangs on motorbikes had roamed the streets vandalising and robbing shops.
A 20-year-old man died after being shot in the chest while travelling through the city on a motorbike, Officials said he had not been taking part in the looting.
Governor de la Sota said criminal gangs were behind the lootings.
"These weren't people looking for food. These were organised gangs at work.
"In some cases, shops were destroyed and nothing was even taken, these people were out to create a climate of fear," he said.
Police are now back on patrol after they were promised a monthly take-home pay of more than 10,000 pesos (£985; $1,600).