Brazilian homeless man sentenced over Rio riots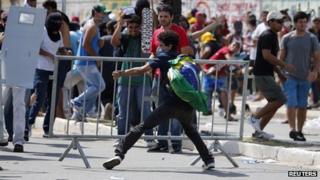 A homeless man in Brazil has been sentenced to five years in jail for his role in riots in Rio de Janeiro earlier this year.
Rafael Braga Vieira was convicted for carrying bottles containing ethanol, which can be used to produce petrol bombs.
His lawyers say he had cleaning products, and that he will appeal.
He is the first person in Brazil to be sentenced over the violence that marred the widespread protests.
Rafael Vieira, 26, was arrested outside an abandoned shop in Rio de Janeiro's city centre on 20 June, after a demonstration attended by more than 300,000 people.
As he has a criminal record for theft, the judge in Rio ruled that he would not be allowed parole.
Four other people arrested around the same time in Rio remain in jail waiting to find out whether they will be acquitted or convicted.
Black Blocs
The protests began at the end of May in Sao Paulo, against a rise in public transport fares.
But they soon spread across the country, covering a wide range of issues.
The rises in Sao Paulo and many other Brazilian cities were revoked after two weeks of protests.
But by then the demonstrators were venting their anger at corruption and the high cost of preparation for next year's World Cup and the 2016 Olympics.
They also demanded more investment in education, transport and health.
Most of the protests were largely peaceful, but were marred by outbreaks of violence and looting, spearheaded mostly by activists known as Black Blocs.
President Dilma Rousseff and the Congress reacted by approving legislation earmarking future earnings from oil revenue to improve public services.