Argentine man killed during looting in Cordoba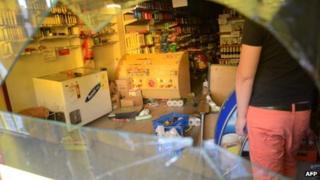 Doctors in the central Argentine city of Cordoba say one person has been killed during a spate of lootings.
More than 60 people were injured when groups of people ransacked shops while police were on strike demanding higher wages and refused to go on patrol or leave police stations.
Officials said the victim was not taking part in the looting.
The 20-year-old was reportedly shot in the chest while travelling through the area on a motorbike.
Cordoba province Governor Jose Manuel de la Soto has asked the government for "urgent help" in containing the unrest.
Local media say gangs broke into a number of shops, including a motorcycle shop, supermarkets and shops selling mattresses and clothes.
Residents reported hearing shots throughout the night.
Provincial police officers have refused to return to work unless their salaries are raised to 13,000 pesos (£1,285; $2,100) a month.
Argentina has recently seen a number of street protests against the economic policies of President Cristina Fernandez de Kirchner.