Colombian farmers protest against agricultural policies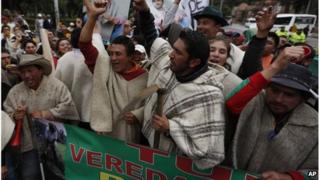 Several thousand Colombian farmers have marched through the streets of Bogota to demand that the government comply with agreements reached in September.
Farmers' leaders said the Colombian government had breached 72 of 88 points agreed to end the previous protest.
"Things are as bad or worse than they were before," said one of their leaders, Cesar Pachon.
In August, the farmers had said the government's agricultural policies were driving them into bankruptcy.
They said that free trade agreements with the European Union and the United States, which had recently come into force, were flooding the market with agricultural products at prices they were unable to match.
The farmers also complained that rising fuel and production costs had turned small-scale farming into a loss-making business.
The protest ended after the government announced measures - including better prices for agricultural products and more access to loans - to ease the pressure on farmers.
The government also promised more protection from cheaper, imported products.
But Cesar Pachon - the head of Dignidades de Colombia movement - said on Tuesday that small-scale farmers in Colombia were still selling their products at below cost price.
He said imports were still flooding the market and that farmers owed a great deal of money to banks.
Colombia's Agriculture Minister Ruben Dario Lizarralde denied the government had failed to comply with the agreements.
He said the government was making a big effort to meet the farmers' demands.
He added that the government had spent a lot of time meeting small-scale farmers to discuss their needs.
Colombian health workers joined Tuesday's march in the capital to protest against proposed changes to the law that regulates social security.