Brazil indigenous leader Ambrosio Vilhalba murdered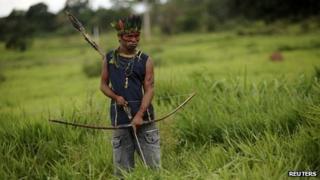 A Brazilian indigenous leader who starred in an internationally-acclaimed film has been stabbed to death.
Ambrosio Vilhalba had been involved in disputes with local ranchers, but it appears his death was a result of a row with other tribe members.
The Guarani community have handed over two suspects to the police.
Mr Vilhalba starred as the main character in the award-winning feature "Birdwatchers", which portrays the Guarani's struggle for their land.
He was reportedly stabbed at the entrance to his community, known as Guyra Roka, in the western state of Mato Grosso do Sul.
Police in the town of Caarapo said one of the suspects arrested was Mr Vilhalba's father-in-law. He denies killing him.
Mr Vilhalba campaigned in Brazil and abroad for the protection of the Guarani's ancestral land.
"This is what I most hope for - land and justice," he once said.
The Guarani of Guyra Roka were evicted from their lands many years ago by ranchers who cleared the land to plant sugar cane.
In 2007 they managed to reoccupy a fraction of the territory they claim.
Mr Vilhalba was one of the most outspoken opponents of sugar cane plantations.
"He was an extremely important figure in the Guarani land campaign and now we've lost him," a Guarani spokesman told the NGO Survival International.
Brazil's constitution includes a progressive land policy, under which about 13% of the country has been set aside as indigenous territories.
But despite having the largest indigenous population in Brazil, about 9% of the total, the state of Mato Grosso do Sul has only 0.7% of the official indigenous lands.