Mexico search uncovers 64 bodies in mass graves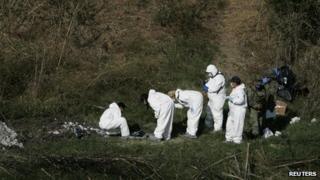 Officials in Mexico say they have found 64 bodies in dozens of mass graves in the western states of Jalisco and Michoacan.
Forensic scientists uncovered the graves during their search for two police officers who have been missing since the beginning of November.
The two federal officers are not among the dead found during the month-long search.
The area where the graves were located is disputed by rival drug cartels.
Some of the bodies showed signs of torture, while others had been bound and gagged.
Forensic tests suggest some had been buried up to three years ago. Officials said they would now try to identify the bodies.
The two federal officers went missing on 3 November in the area between the states of Jalisco and Michoacan, where two drug cartels calling themselves New Generation and Knights Templar are active.
Their burned-out car was later found near the village of Vista Hermosa.
Twenty-five people, among them 22 local police officers, have been arrested in connection with the disappearance.
Investigators suspect them of having been on the payroll of the drug cartels.
The government has been trying to contain a rise in violence in the area, sending extra troops to the region and putting an army general in control of security operations.
An estimated 70,000 people have died in drug-related violence in Mexico since 2007.