Huge power cut blacks out much of Venezuela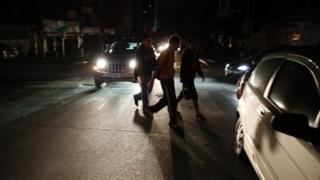 A massive power cut plunged the Venezuelan capital, Caracas, and other cities into darkness on Monday evening.
The Caracas metro ground to a halt and people had to be evacuated from shops and offices.
President Nicolas Maduro tweeted that the cut had been triggered in the same place as an outage in September, and suggested "sabotage" was responsible.
Power cuts are common in Venezuela, especially in the inland states, but rarely affect the capital.
Although Venezuela has large oil reserves it is dependent on hydro-electricity for about 70% of its power.
The blackout took place shortly after 20:00 on Monday (00:30 GMT Tuesday) as President Maduro was addressing the nation on television.
Deprived of the airwaves, Mr Maduro took to Twitter to say that the government was monitoring the "strange blackout that occurred in the same place as the last act of sabotage".
"I ask the people to stay alert," he tweeted.
Caracas resident Olinda Reyes was evacuated from a shopping centre in eastern Caracas shortly after power was lost.
"We are afraid," she said. "There are no buses, the subway doesn't work and we're in complete darkness at the mercy of God."
The blackouts did not affect Venezuela's oil refineries, which are powered by separate generator plants.
Some time after the outage, Electricity Minister Jesse Chacon said electricity had been restored to most of Caracas but was still cut in several regions. He said the blackout had originated in central Venezuela.
"It was a direct fault in the systems at the sub-station. It is too early to speculate but we are looking into the problem," he said.
The opposition says the governments of President Maduro and his predecessor, Hugo Chavez, have failed to maintain the power grid to meet growing demand, and resorted to conspiracy theories to divert attention from mismanagement.
Correspondents said that while Caracas was in darkness, people could be heard banging pots - a frequent means of protest.
During the September black-out, the president said that "the extreme right has resumed its plan for an electrical strike against the country".
Last month Venezuela's National Assembly gave Mr Maduro controversial powers to rule by decree for a year. Local elections are due to be held on Sunday.