Honduras to recount presidential election vote tallies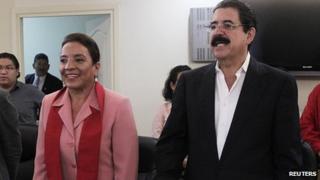 Electoral authorities in Honduras have agreed to review vote tallies from last week's presidential elections.
Defeated left-wing candidate Xiomara Castro demanded the recount, saying she had been robbed of victory by "fraud".
The governing party's candidate, Juan Orlando Hernandez, has been declared president-elect.
Head of the electoral authority David Matamoros said he hoped Ms Castro would admit defeat if the review confirms Mr Hernandez's victory.
The electoral court's official results gave Mr Hernandez 37% of the votes to Ms Castro's 29%.
Ms Castro, 54 - who is married to former President Manuel Zelaya - claimed that tally sheets had been altered; the voter registry included people who were dead or abroad, and polling stations were poorly monitored.
"It's opening a door which is exactly what we want, to be able to check, to present our case," she told reporters at the electoral court.
On Sunday, the couple led thousands of opposition supporters in a peaceful march against the election results.
Ms Castro - who hoped to become the first female president of Honduras - had originally asked for a recount of all ballots, but her formal complaint only sought a recount of the vote tally sheets compiled at each polling station.
Last Tuesday, observers from the European Union and Organization of American States said the voting process had been transparent.
For his part, Mr Hernandez has said his victory is legitimate and that he won't negotiate. He hasn't commented directly on the fraud claims.
Nicaragua's leftist President Daniel Ortega has already congratulated Mr Hernandez on his victory.
Mr Zelaya, who was deposed in a coup in 2009, told reporters there were "serious inconsistencies" in up to 400,000 ballots.
"We are going to defend our triumph at the ballot box and if necessary will take to the streets," he said.
"Until proven otherwise, we hold triumph in our hands."
Tight security
Analysts say victory for Mr Hernandez would be a blow to Mr Zelaya, who has hoped to stage a comeback with his wife.
Around 5.4m Hondurans were registered to vote in the general election, selecting a new president, members of parliament and local mayors.
Voting took place amid tight security, but no serious incidents were reported.
Honduras is one of the poorest countries in Latin America and also has the world's highest murder rate, averaging 20 killings a day.
Much of the violence is blamed on gang violence and drug traffickers.
Nearly 30,000 police and soldiers were deployed to ensure security during the elections on 24 November.
Mr Hernandez, whose National Party backed the ousting of Mr Zelaya, has vowed to restore order with more soldiers and police on the streets.
Ms Castro has proposed a community police force to tackle local crime, with more soldiers deployed to the borders to combat drug trafficking.