Brazil National Force sent to land dispute region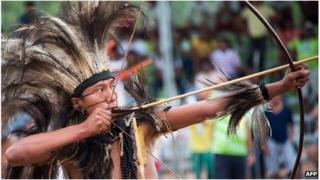 A task force of the Brazilian National Force is to be deployed in areas disputed by an indigenous group and farmers in the western Mato Grosso do Sul state.
The federal force is due to arrive in the region just ahead of an auction to raise funds for the farmers' private security personnel.
An indigenous man was killed in the area in clashes with the police in May.
A 2010 court ruling granted the Terena ethnic group exclusive rights over the land, but land owners dispute it.
They accuse the indigenous group of invading their farms in Sidrolandia (1,200km west of Rio de Janeiro) and say they have to defend themselves.
The "Resistance Auction" on 7 December aims to raise funds for hiring private security guards and is expected to sell at least 1,000 cattle and tons of grain.
'Gun fight'
"Up until now, they invaded and we retreated. If they invade other land, there will be a gun fight, and nobody knows what the consequences might be," Francisco Maia, the president of state farmers' association Accrisul told the BBC Brasil's Joao Fellet.
The land owners want the government to come up with an alternative plan to solve the land dispute which already led to violence in May and June.
In 2010, a court ruled that the land where their farms stand, the Buriti Indigenous Lands, should be owned exclusively by the Terena peoples.
But the farmers refuse to leave and demand compensation for any loss of land.
The conflict in Sidrolandia escalated at the end of May, culminating with the killing of Osiel Gabriel Terena.
After the episode, in June, about 200 soldiers were deployed at a disputed farm.
The conflict is only one of about 80 in Mato Grosso do Sul, BBC Brasil reports.
Brazil's constitution includes a progressive land policy, under which about 13% of the country has been set aside as indigenous territories.
But despite having the largest indigenous population in Brazil, about 9% of the total, the state of Mato Grosso do Sul has only 0.7% of the official indigenous lands.