Paraguay senator loses immunity after public pressure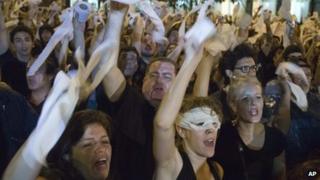 The senate in Paraguay has bowed to public pressure and lifted the immunity of a senator who has been accused of corruption.
Senator Victor Bogado from the governing Colorado Party will now have to respond to allegations that he made fraudulent expenses claims.
He also allegedly used his influence to find well-paid jobs for his children's former nanny.
Mr Bogado denies the charges, saying his only motivation was to help people.
"I'm innocent," he told prosecutors on Thursday.
The senator's alleged nepotism had sparked a public outcry, with thousands of people taking part in demonstrations against the 23 senators who defended Mr Bogado in the senate a fortnight ago.
A campaign on social media against the senators led many bars, restaurants and cinemas to ban the group from their premises.
And some of the senators were harassed when they were seen in public.
Finally, on Thursday, Mr Bogado himself asked the senate to hold a second vote on his immunity from prosecution, insisting he had got into trouble "for being helpful".
"No lawyer has been able to determine exactly what it is that I've done wrong," he said.
The senators voted unanimously against him keeping his parliamentary immunity.
Some later said they had changed their minds since the first vote earlier in the month.
The president of the Bar Association in Paraguay, Kattya Gonzalez, told the Spanish news agency Efe that it had been a victory for the people.
"It was not a concession to the public, quite the opposite. The senators felt they had no choice," she said.