Venezuela elections: Empty shelves and a skyscraper squat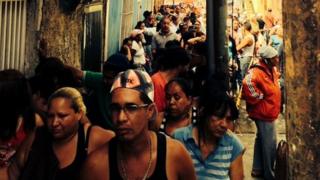 Venezuelans go to the polls in local and regional elections on 8 December that are being widely seen as a referendum on the six-month presidency of Nicolas Maduro. Opponents accuse him of leading the country to economic ruin, but he insists his reforms are essential and popular.
Caracas is not the most welcoming of cities. Like many Latin American conurbations it has grown haphazardly and traffic is a nightmare. Crime is rife and the Venezuelan capital has the reputation of being regarded as one of the most violent cities in the region.
In more ways than one these are difficult days in Venezuela as the government and the opposition accuse each other of trying to systematically undermine the country's economy.
It is quite common these days to see queues outside shops where there has been a fresh delivery of milk or toilet paper - basic goods that many Venezuelans no longer take for granted.
The left-wing popularist government tries to offset the notion of a crisis by running heavily discounted food and produce markets - counteracting, it says, the actions of profit-hungry private companies.
At one such so-called Christmas market in Caracas we met Robert Serra, a pro-government member of the Venezuelan parliament and a fervent "revolutionary Chavista".
"The economic classes, those on the right, have been slowly increasing their attacks on the people," he says, as a long queue of shoppers waits patiently in the Caracas heat.
"They're trying every way they can to generate an economic war in the country," he adds.
Chavez legacy
Nicolas Maduro has been president for six months.
Like many populist leaders he likes to talk. His rambling speeches often go on for hours, usually with the same theme; the evils of neo-imperialism, the plunder of this country by private business and speculators and his grand plan for a socialist revolution in Venezuela.
It is more than just rhetoric.
Two weeks ago, President Maduro ordered a chain of electronic stores called Daka to slash their prices, accusing it of defrauding ordinary people.
The allegation was that businesses were taking advantage of the huge discrepancy between the official, controlled rate for US dollars and what it is possible to get on the black market.
The ensuing rush for cut-price TVs made some happy and the government warned it would extend the policy to other sectors. But at Daka the shelves are now empty and it is difficult to see what such policies do for business confidence.
The architect of these programmes was, of course, Hugo Chavez. El Comandante is revered by many poor Venezuelans. His image looks down from buildings across the capital often alongside that of Simon Bolivar - the great anti-colonialist "Liberator" - and Jesus Christ.
'Torre David'
Chavez died after a long battle against cancer at the start of the year and however much Nicolas Maduro tries to evoke his memory in his own speeches he does not have his predecessor's charisma or ability to push through the divisive and controversial economic polices.
Critics say Venezuela is now becoming ungovernable. One stark example is the Tower of David.
This oil-rich country once had plans to build Wall Street in the heart of Caracas.
But in 2007, homeless squatters invaded an unfinished financial centre and more than 1,000 families now live in the Tower of David.
The residents pay a basic form of rent to keep the building running.
There are shops and a moto-taxi service to take people up to the top of the huge skyscraper.
The residents of "Torre David" live beyond Venezuelan society and beyond the reach of the law. (In the past the community was said to be a haven for drugs dealers and former criminals.)
There are also plans for a school here although, for now, the children who live among the precarious heights make their way each day down the open, unfinished concrete staircases to local schools outside the complex.
Among the residents is Wilmer Angel. He runs a small business, making metal moulds, from the room in which he lives with his wife and four children.
Wilmer's outlook is positive and he is certainly not looking to anyone else for help.
"No government has ever done anything for us," he tells me with an ironic laugh. "Yes, I'm a Chavista because at least under that government no-one stopped us taking over this place, but what we've got here we built for ourselves."
Endemic corruption
With official inflation figures running at around 50% (unofficially it is probably much higher) the opposition accuses President Maduro of leading Venezuela to the abyss and of fomenting a Zimbabwean-style class war in South America.
At a rally in downtown Caracas to protest against the president's assumption of extra powers in Congress, demonstrators scoffed at Mr Maduro's explanation that all this was being done to tackle corruption.
Corruption is endemic here and almost everyone admits to having paid a bribe to a policeman or public official at some point.
Among those attending the moderately sized rally was Henrique Capriles. He is the regional governor who ran Mr Maduro very close in this year's presidential vote and is still the main figure in the opposition movement.
Mr Capriles lamented the confrontational nature of the president's polices and the fact the opposition is now virtually excluded from political debate after Mr Maduro was granted the ability to govern by decree.
"Venezuela is heading in the wrong direction and I think we will pay a huge price for that," says Mr Capriles. "No-one is coming up with any ideas to address the economic crisis."
Nicolas Maduro says he is governing for all Venezuelans and for the national good, but as each day progresses the country feels even more divided.
The creation of a much derided sub-Ministry for Social Happiness might or might not improve the president's standing but he knows next week's local and regional vote will be a real test of his plans for the future of this country.