Repsol board has approved agreement with Argentina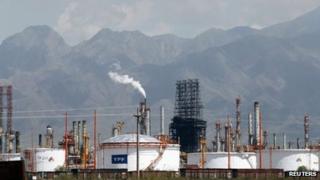 The Spanish oil company Repsol has agreed to negotiate with Argentina on compensation for the seizure of its assets there last year.
The Argentine government nationalised Repsol's controlling stake in the country's biggest oil firm YPF without payment.
It accused the Spanish company of not investing enough to increase output.
Repsol said it would negotiate "a fair, effective and quick solution to the controversy" with Argentina.
The Repsol statement did not say how much the compensation would amount to.
The Spanish company had been demanding $10.5bn (£6.5bn).
In return, it's understood that Repsol would drop legal action against Argentina.
Mexico's Pemex, which holds a stake in Repsol, welcomed the board's backing of the preliminary deal.
It said it would benefit the company and its shareholders.
YPF produces about a third of Argentina's oil and a quarter of its gas.
Argentina has some of the world's largest reserves of shale oil and gas.
The authorities in Argentina had accused YPF of not investing enough to increase output from its oil fields. Repsol replied that it had invested $20bn in the country.
Repsol and the investment firm Texas Yale Capital Corp sued Argentina and demanded that it makes an offer for the YPF stake.
The European Union had also filed a suit against Argentina's import restrictions at the World Trade Organization.