Venezuela's opposition leader tells supporters to vote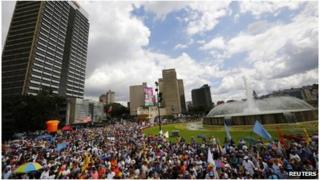 Venezuela's opposition leader, Henrique Capriles, has told a crowd of supporters not to feel intimidated and to vote in upcoming local elections.
Speaking in the capital, Caracas, Mr Capriles said not voting on 8 December could be "very costly".
He was speaking as thousands turned out for a day of protest.
On Wednesday, the National Assembly gave President Nicolas Maduro controversial new powers to rule by decree.
He says the powers will enable him to fight corruption and fix the economy.
The National Assembly's measure allows Mr Maduro to govern without consulting parliament for 12 months.
Despite being a big oil producer, Venezuela is facing shortages of food and other essential goods, as well as power cuts and 54% inflation.
Mr Maduro has already forced retailers to slash prices by up to 60%, as part of his fight against what he calls "economic sabotage".
The government has also imposed strict controls over the sale of foreign currency, to combat a growing black market in dollars.
The opposition accuses Mr Maduro of planning to use his new powers to suppress its activities.
'Coward'
Local elections take place in two weeks.
"Everybody has to overcome their fears and vote. Voting doesn't cost a thing, but not doing it can be very costly," Mr Capriles, who narrowly lost to Mr Maduro in April's presidential election, told the crowd on Saturday.
Mr Capriles said two of his aides were detained without explanation on Thursday night.
He accused the president of being too cowardly to arrest him, relying instead on detaining people around him.
"Why don't they come for me? Maduro, don't be a coward, come on," the defiant opposition leader told supporters.
One of those arrested was man in charge of organising Mr Caprile's travel agenda, Alejandro Silva.
The government confirmed two members of the opposition had been arrested, accused of planning to provoke disturbances during Saturday's protests.
The opposition disputes Mr Maduro's victory in April's elections.