Fernandez reshuffles Argentina cabinet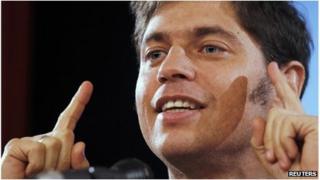 Argentine President Cristina Fernandez de Kirchner has appointed new cabinet members in an apparent effort to tackle the country's economic crisis.
Only hours after returning to work following her brain surgery six weeks ago, Ms Fernandez replaced key figures in her government.
She chose a new cabinet chief, economy and agriculture ministers and replaced the head of the central bank.
The changes are expected to deepen Ms Fernandez' interventionist policies.
The new economy minister, Axel Kicillof, who was previously deputy-minister, is widely expected to tighten exchange controls further.
Mr Kicillof has overseen the renationalisation of the main airline, Aerolineas Argentinas, and the expropriation of assets from Spanish oil giant Repsol in 2012.
'Concern for investors'
"For private investors, Kicillof is a concern, and for Argentines he is the ratification of the current economic course - nothing will change," a senior aide to ex-President Nestor Kirchner, Alberto Fernandez, told Reuters news agency.
The outgoing minister, Hernan Lorenzino, was offered the posting of ambassador to the European Union.
In the agriculture ministry, Carlos Casamiquela, replaces Norberto Yauhar; while Carlos Fabrega takes over as director of the central bank from Mercedes Marco del Pont.
The new cabinet chief, Jorge Capitanich, is the governor of one of the regions where Ms Fernandez' allies had most support in last month's elections.
The reshuffle comes as Argentina faces difficult economic times, with rising inflation and a devalued peso.
The ailing president's party suffered heavy losses in elections last month, including the key prefecture of the capital, Buenos Aires.
Furthermore, Ms Fernandez has seen her majority in Congress reduced.
As she returned to office on Monday, she released a video message, thanking those who supported her during "difficult moments".
The president, 60, had surgery on 8 October to remove a blood clot on her brain found during routine checks.
She was discharged from hospital a month later. Doctors say they will continue to monitor her health, with new tests due in December.