Brazil banker Henrique Pizzolato flees to escape jail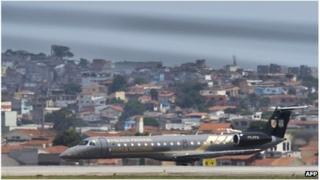 An ex-director of the Brazilian state-run bank Banco do Brasil who has been convicted in a major corruption trial has fled the country to avoid jail.
Henrique Pizzolato, who also has an Italian passport, said in a letter he had fled to seek a fair trial in Italy.
On Friday the Brazilian Supreme Court issued 12 arrest warrants in connection with the case.
Eleven defendants have surrendered, including the chief of staff of ex-President Luiz Inacio Lula da Silva.
Last year, the Supreme Court convicted 25 politicians, businessmen and bankers over the "Mensalao" (big monthly allowance) case.
The scheme that used public funds to pay coalition parties for political support during the government of President Lula came to light in 2005.
President Lula was not implicated in the case.
'Media-free trial'
The first sentences were only handed down at the end of 2012.
Nearly a year later, on Friday, the Supreme Court issued the first 12 arrest warrants.
Pizzolato, an ex-marketing director of Banco do Brasil, was the only one who did not turn himself in.
He was sentenced to more than 12 years in jail for money laundering, embezzlement and active corruption.
His lawyer released a letter from Pizzolato and said he hoped to get another trial, free of media pressure in Italy.
"Unable to see a chance of having a trial free of political-electoral motivations... I have decided consciously and voluntarily to use my legitimate right to freedom to have a new trial in Italy, in a court that does not submit itself to corporate media impositions," the letter said.
Jose Genoino, a former president of the governing Workers' Party (PT), was the first to hand himself in to police.
He also released an open letter protesting his innocence and saying he considers himself a "political prisoner".
"With indignation, I abide by the decisions of the Supreme Court. What do the accuse me of? There is no evidence," Mr Genoino wrote.
Lula's former chief of staff, Jose Dirceu, who was sentenced to 10 years and 10 months, also surrendered in Sao Paulo.
Other high-profile convicted, such as the PT ex-treasurer Delubio Soares also handed themselves across the country.
All of the arrested were flown to Brasilia on Saturday.