Brazil Mensalao trial: Former chief of staff jailed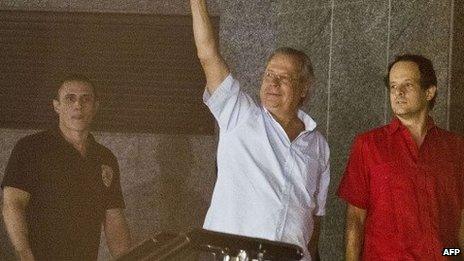 Brazil has started to jail senior figures convicted in the country's biggest corruption trial, the "Mensalao" (big monthly allowance).
The Supreme Court issued arrest orders for 12 of the 25 politicians, bankers and businessmen convicted last year.
Ex-President Luiz Inacio Lula da Silva's former chief of staff was among the first to surrender to the police.
The "Mensalao" was a scheme that used public funds to pay coalition parties for political support.
Lula was not implicated in the case.
The trial is seen as a test of Brazil's attempts to crack down on corruption, the BBCs Wyre Davies reports from Rio de Janeiro.
On Thursday, Brazil's Supreme Court ruled that most of the politicians, businessmen and bankers convicted in the country's biggest corruption trial had to start their jail terms immediately.
The arrest warrants were issued on Friday.
Jose Genoino, a former president of the governing Workers' Party (PT) was the first to give himself up to the police.
Mr Genoino – who was sentenced to six years and 11 months in jail – was driven to the Federal Police headquarters in Sao Paulo to hand himself over.
He shouted "Long live the PT!" to a group of supporters before entering the building.
The PT ex-president, who was jailed and tortured by the military dictatorship in the 1970s, also released an open letter protesting his innocence and saying he considers himself a "political prisoner".
"With indignation, I abide by the decisions of the Supreme Court. What do the accuse me of? There is no evidence," he wrote.
Lula's former chief of staff, Jose Dirceu, who was sentenced to 10 years and 10 months, also surrendered in Sao Paulo.
Mr Dirceu released an open letter protesting against the Supreme Court decision that ruled over the immediate start of his and other jail sentences.
"As always, I will abide by the Constitution and the law, but not without protesting and denouncing the unfair nature of the conviction against me. The worst injustice is that committed by Justice itself," it reads.
The Brazilian Federal Police says all the arrested will be transported to Brasilia in the next few days.
The central allegation of the case was that illegal payments and benefits were paid to members of Congress in return for supporting the government in crucial votes.
The "Mensalao" (big monthly allowance) scandal came to light in 2005 but the sentences were handed down at the end of 2012.
The trial was seen as a key test of Brazil's ability to hold its politicians to account for corruption.
Lula left office at the end of 2010 with huge approval ratings and remains a popular figure in Brazilian political life.
Related Internet Links
The BBC is not responsible for the content of external sites.