Brazil's ex-President Joao Goulart's remains honoured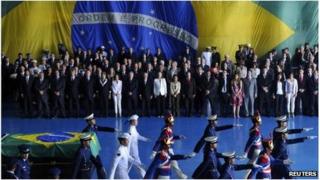 Former Brazil President Joao Goulart has received state honours 37 years after his death, as his remains arrived in the capital, Brasilia, for tests to establish how he died.
The ceremony was headed by the Brazilian President, Dilma Rousseff.
Goulart, known as Jango, died in exile in Argentina. A heart attack was given as the official cause of death.
But a former Uruguayan spy has said Goulart was poisoned by agents working for the region's military governments.
Goulart governed from 1961 to 1964.
When he died in exile, in 1976, the Brazilian military authorities refused to give him state honours or to declare a day of mourning.
'Meeting with history'
Goulart was the only Brazilian president to be buried without the honours usually given to a former head of state.
"Today, Brazil is having a meeting with its history," President Rousseff wrote on Twitter.
The celebration was an affirmation of Brazilian democracy, she said.
Goulart's family and a number of authorities and former presidents, including Luiz Inacio Lula da Silva and Fernando Collor de Mello, took part in the state ceremony that welcomed former President Joao Goulart's remains into the capital.
Forensic scientists exhumed the remains on Wednesday from the family pantheon in Sao Borja, a small Brazilian town near the Argentine border.
The remains were taken by car to the nearby town of Santa Maria before being flown to Brasilia on Thursday.
Toxicology tests will be carried out on the remains, and samples sent abroad to be analysed, local reports say.
But it could be months before any results are known.
A progressive leader with left-wing sympathies during the height of the Cold War, Goulart was deposed in the 1964 military coup.
He fled first to Uruguay, where he settled as a farmer, and in 1973 to Argentina on the invitation of its president, Juan Peron.
Goulart was found dead on 6 December 1976 in the Argentine city of Mercedes, nine months after a military junta had overthrown the government of Juan Peron's widow, Isabel Peron.
Officials at the time said he had died of a heart attack, but no post mortem examination was carried out by the authorities in either Argentina or Brazil, where he was taken for burial.
Doubts about his death resurfaced five years ago when a former Uruguayan intelligence officer serving a sentence for drug smuggling in Brazil alleged that Goulart was poisoned by Uruguayan agents at the request of Brazilian military rulers.
The intelligence officer, Mario Neira, said the alleged murder was part of Operation Condor, a plan under which the military governments of Argentina, Bolivia, Brazil, Chile, Paraguay and Uruguay collaborated to eliminate their political opponents in the 1970s and '80s.
Neira alleges that Goulart died after his heart medication was swapped with one altered to cause a cardiac attack, by agents working on behalf of the Brazilian military.
Brazil's National Truth Commission, which started work last year, agreed to investigate the claims with the help of the presidency's human rights commission.
Up to 500 people were killed or disappeared under Brazil's military rule - a far lower number than in shorter periods of military rule in neighbouring Argentina and Chile.
But thousands of Brazilians were tortured, exiled or deprived of their political rights.