Q&A: Chilean presidential election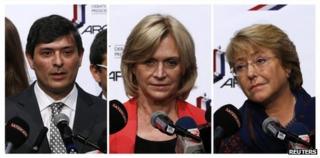 On 17 November Chileans are to choose a new leader from among nine hopefuls. Analysts believe the large number of candidates makes a second round on 15 December likely and opinion polls suggest that former President Michelle Bachelet will be one of those still in the contest.
However, it is still not clear who will come second in the first round. It could be Dr Bachelet's former childhood friend Evelyn Matthei or the man described by The Santiago Times as "a celebrity economist", Franco Parisi.
What are the issues?
Chile's economy is among the healthiest in Latin America, but there are calls for the wealth to be more fairly shared. The high costs of higher education and transport have prompted students to take to the streets in angry protests, the origins of which date back to Michelle Bachelet's first term in office. And the shadow of the Pinochet years still divides the country.
Who are the main candidates?
Michelle Bachelet, candidate for a centre-left coalition of parties known as Nueva Mayoria: 61-year old Dr Bachelet served as Chile's president between 2006 and 2010. She is the daughter of a high-ranking air force officer who died from the effects of torture while a prisoner of the military junta led by Gen Augusto Pinochet. Dr Bachelet was herself tortured and spent some years in exile before being allowed to return and finish her medical studies. Dr Bachelet held the post of health minister in Ricardo Lagos' government and was Chile's first female defence minister. In 2010, she was appointed the first director of the newly-created agency UN Women.
Evelyn Matthei, conservative Alianza party candidate: 60-year old Ms Matthei is at the opposite end of the political spectrum from Dr Bachelet. She is also the daughter of a high-ranking air force officer and the two families were friends, but Ms Matthei's father was promoted to head the air force under Gen Pinochet. Ms Matthei studied economics and worked in the private sector before entering politics in 1988. She served as labour minister under the incumbent president.
Franco Parisi, independent candidate: 45-year old Mr Parisi is an economist and academic. He describes himself as having been born into a middle class family in Santiago. He came into the public eye, he says, almost by accident when commenting in the media on the 2011 debt manipulation scandal involving the country's fourth largest retailer Empresas la Polar.
Who else is standing?
Tomas Jocelyn-Holt (50), independent candidate: Mr Jocelyn-Holt studied law at the Catholic University of Chile, where he was president of the Student Federation. He has made himself memorable during the campaign by falling off his bicycle in front of the media while on his way to a presidential debate.
Marco Enriquez-Ominami (40), Progressive Party candidate: Film-maker Mr Enriquez-Ominami stood as an independent in the 2009 presidential election, but failed to reach the second round. Born two months before the 1973 coup, he and his journalist mother were exiled and settled in France. His father, Revolutionary Left Movement leader Miguel Enriquez, stayed in Chile to organise resistance to the junta, but was killed by secret police agents less than a year later.
Alfredo Sfeir (66), Green Party candidate: Mr Sfeir describes himself as an economist and spiritual leader. The grandson of Lebanese immigrants, Mr Sfeir worked for the World Bank for more than two decades before founding the Zambuling Institute for Human Transformation. In a March 2013 tweet, he said: "Spirituality without politics is theory. Politics without spirituality is illegitimate."
Marcel Claude (56), independent candidate endorsed by the Humanist Party and Izquierda Unida: Mr Claude has worked as an economic analyst and a manager of environmental organisations. According to his campaign website, Mr Claude supported the "Group of Socialist Economists" during the Pinochet dictatorship.
Miranda Roxana (46), Equality Party candidate: Social activist Ms Roxana is from the working class district of San Bernadino where she works as a seamstress. She has spent many years as the leader of a national movement trying to obtain relief from housing loans by negotiating for debt cancellation or lower interest rates. Her slogan is: "Let the people rule."
Ricardo Israel (63), Regionalist Party of the Independents candidate: A lawyer and academic, Mr Israel has said during the campaign that a better Chile depends on regionalisation and greater equality, Chilean National TV reported.
What are the main candidates' policies?
Dr Bachelet has offered to make amends for mistakes in her previous administration, such as problems with Santiago's public transport network, and plans ambitious reforms including a new constitution.
Ms Matthei has promised quality services in health care, education and public transport, and has pledged that families will be able to live without fear of crime.
Mr Parisi set out his "main proposals" on his Facebook page. They are an eclectic mix headed by a new law on animal ownership, and including media law reform and the introduction of career diplomats. His slogan is "Power to the People".
Who is likely to win?
The election rules require the winning candidate to obtain 50% of the vote in the first round in order to win outright. No candidate has done this since the 1993 election, and a change from compulsory to voluntary voting may lead to a low turnout.
A recent poll by the Chilean polling organisation CEP showed Dr Bachelet with a healthy lead over rival Ms Matthei: with 47% to 14%. A further 10% said they would vote for Mr Parisi.
Voting will take place between 0800 and 1800 local time (1100-2100 GMT). The first results are expected at around 1930.
BBC Monitoring reports and analyses news from TV, radio, web and print media around the world. For more reports from BBC Monitoring, click here. You can follow BBC Monitoring on Twitter and Facebook.