Colombia uncovers Farc plot to kill ex-president Uribe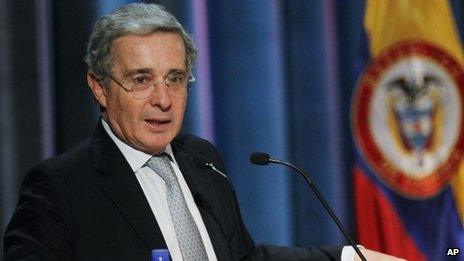 The Colombian government says it has uncovered a plot by the country's largest rebel group, the Farc, to kill the former president, Alvaro Uribe.
Defence Minister Juan Carlos Pinzon said the assassination was due to be carried out by a rebel column operating in central Colombia.
Mr Pinzon said security around the former president had been reinforced.
Mr Uribe is an outspoken critic of the current peace process between the rebels and the government.
Mr Pinzon said he had met Mr Uribe, who is running for the Senate in next year's elections, to inform him of the threat.
The assassination was being plotted by the Farc's Teofilo Forero Mobile Column, under the command of a rebel known as Paisa, said Mr Pinzon.
Mr Uribe's father was killed by the Farc in 1983 in a failed kidnapping attempt.
During Mr Uribe's two terms in office, from 2002 to 2010, the Colombian army inflicted heavy defeats on the rebels.
The peace talks were launched a year ago in the Cuban capital, Havana.
They are aimed at ending five decades of bloody conflict, with the left-wing rebels agreeing to give up their armed struggle and join the legal political process.
Agreement has been reached so far on land reform and political participation - two of the six issues being discussed.
The other four items on the peace agenda are disarmament, illicit drugs, rights of the victims and peace deal implementation.
But fighting has carried on despite the talks. President Juan Manuel Santos's government has refused to agree to a ceasefire, as requested by the rebels, saying it would only help them regroup and rearm.
Five decades of internal conflict in Colombia have led to the displacement of hundreds of thousands of people.
A study by Colombia's National Centre for Historical Memory suggests 220,000 people have died in the violence.