Argentine president expected to return to work next week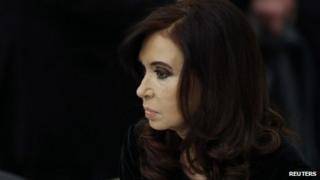 Doctors have set a date for President Cristina Fernandez de Kirchner to return to work.
Ms Fernandez, who underwent surgery a month ago to remove a blood clot on her brain, is due to resume her official duties on 18 November.
Government spokesman Alfredo Scoccimarro said doctors were happy with the condition of her heart and she would undergo new tests next month.
On Saturday, he said Ms Fernandez had been discharged from hospital.
A statement from the medical team at the Favaloro Foundation hospital says that tests have shown "the absence of significant arrhythmias and a good cardiovascular condition".
Doctors say they will continue to monitor her health. The new tests will take place on 9 December.
Electoral defeat
Ms Fernandez, 60, had surgery on 8 October to remove blood that had pooled on the surface of her brain after she fell and knocked her head.
Her illness, last month, forced her to abandon campaigning for mid-term congressional elections.
Her allies suffered heavy losses in the 27 October vote, and Ms Fernandez had her majority in Congress reduced.
That put an end to any speculation that she may try to amend the constitution to allow her to run for a third term in office.
Ms Fernandez was first elected in 2007 and then returned to power with a comfortable majority in 2011. She is due to leave office in two years' time.
Her husband, former President Nestor Kirchner, died from a heart attack in 2010.
Ms Fernandez, who has low blood pressure and had a thyroid gland removed in 2012, has been admitted to hospital on a number of occasions while serving as president.