Argentina's president gets medical clearance to work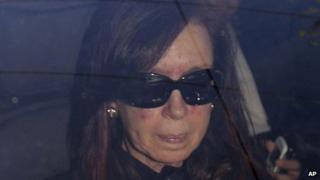 Doctors have given Argentina's President Cristina Fernandez de Kirchner medical clearance to return to work.
A month ago President Fernandez underwent surgery to remove a blood clot on her brain.
A government spokesman, Alfredo Scoccimarro, said the results from scans she had on Friday had been satisfactory.
Ms Fernandez, 60, is expected to resume her official duties on Monday.
"On Monday there will be a medical re-evaluation to determine the pace at which she can resume her daily tasks", said Mr Scoccimarro.
Ms Fernandez won't be allowed to fly for at least another 30 days, and she'll undergo further tests on 9 December.
The Argentine president had surgery on 8 October to remove blood that had pooled on the surface of her brain after she fell and knocked her head.
While she has been receiving treatment, her allies have suffered heavy losses in mid-term elections that reduced her majority in congress, ending any speculation that she may try to amend the constitution to allow her to run for a third term in office.
She is due to leave office in two years time.
Ms Fernandez was first elected in 2007 and then returned to power by a comfortable majority in 2011.
Her health has been followed closely since the sudden death of her husband, former President Nestor Kirchner, from a heart attack in 2010.
She has been admitted to hospital on a number of occasions while serving as president. She has low blood pressure and had to have a thyroid gland removed in 2012.