Colombia drug baron Palencia Gonzalez held in Spain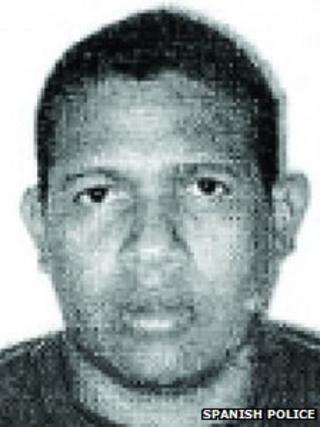 The notorious leader of one of Colombia's most violent drug gangs has been arrested in Spain, police say.
Cipriam Manuel Palencia Gonzalez, the head of the Urabenos gang, is wanted for a string of crimes including the murder of a police officer in Colombia.
He was detained in Madrid on Friday while planning new drug routes to Spain, according to police.
Gonzalez, 34, broke out of jail in Colombia in 2009 and was wounded in a police raid there earlier this year.
Six members of the gang were detained in the raid and a police captain was killed. Colombia police allege Mr Gonzalez then hatched a plot to kill more police.
He escaped, travelling first to Venezuela and then to Brazil before flying to Madrid in recent days under an assumed name, a police statement said.
An international arrest warrant issued by Interpol warned that he could be armed and dangerous.
The Urabenos gang he is alleged to have run was partly formed from members of old paramilitary groups that were established in the 1980s to tackle left-wing guerrillas during Colombia's long civil war.
Mr Gonzalez, also known as Visaje, is accused of drug-smuggling, extortion and ordering the murder of police officers.
Colombian authorities have reportedly linked his gang to 52 murders.