Mexico Supreme Court overturns drugs lord's release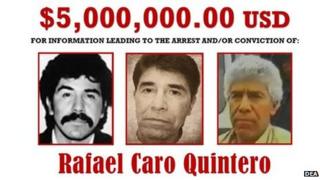 Mexico's Supreme Court has overturned a decision by an appeals court to free one of the country's first drug cartel chiefs three months ago.
Rafael Caro Quintero served 28 of a 40-year sentence for murdering a US agent, but a judge ruled he should have been tried by a state, not a federal court.
The latest decision means Caro Quintero, who has vanished since his release in August, is a fugitive.
US authorities are offering a reward for information leading to his capture.
The US has reacted angrily to Caro Quintero's early release and the Drug Enforcement Agency (DEA) recently posted its $5m (£3m) reward offer.
'Internationally protected'
In its ruling overturning the decision, the Mexican Supreme Court said that the DEA agent who was murdered in 1985, Enrique Camarena, had been "an internationally protected person, given that he had been officially recognised by Mexico and the United States, as an intergovernmental agent".
The judges also ordered Caro Quintero's immediate detention, although his whereabouts are currently unknown.
He was one of three leaders of the once powerful Guadalajara Cartel, which at its height in the 1980s, was believed to be responsible for more than 70% of the cocaine smuggled into the US.
After the murder of Enrique Camarena, the authorities arrested the three men and the cartel fractured, the main part forming what is now the Sinaloa Cartel run by the world's most wanted drug lord, Joaquin "Shorty" Guzman.
The killing strained US-Mexico ties and changed the war on drugs trafficking.
Caro Quintero had been arrested in Costa Rica amid a massive manhunt for cartel leaders.
He could have faced other charges or possible extradition to the US had he not been released.