Colombia agrees Farc political participation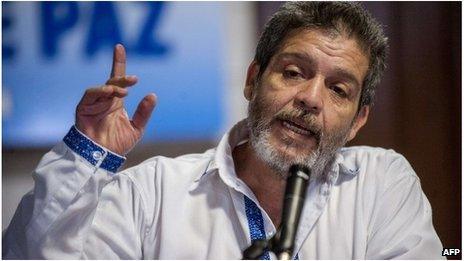 Colombian Farc rebel leaders and government negotiators have agreed on a political future for the left-wing group should a peace deal be reached.
At the ongoing talks in Cuba, both sides agreed on guarantees, conditions and support for the creation of new political parties.
Colombia's largest rebel group and the government are yet to discuss another four items on the agenda.
The peace talks aim to end nearly 50 years of armed conflict.
Some 220,000 people have died in the violence, according to a study by Colombia's National Centre for Historical Memory.
Hundreds of thousands have been displaced.
Wednesday's announcement was made in the Cuban capital, Havana, where the Colombian government and the rebels have held negotiating sessions since last November.
Colombia's chief government negotiator said it would provide a "new democratic opening".
"Never again politics and weapons together," Humberto de la Calle said.
Farc leader Ivan Marquez called it "an important step in the right direction to end the conflict and to achieve a real democracy in Colombia".
The peace agenda has six major points: land reform, political participation, disarmament, illicit drugs, rights of the victims and peace deal implementation.
They had already partially agreed on land reform.
The rebels' political participation is widely considered to be one of the thorniest issues on the agenda so this latest announcement will give the process a much-needed boost, says the BBC's Arturo Wallace in Bogota.
There are still important details to be clarified, including the key question of whether some members of Farc can be barred from participating in politics because of human rights abuses or crimes against humanity.
But this is something that will be addressed in the near future, when the parties start discussing the reparation of the victims of the conflict, our correspondent says.
The government estimates there are just 7,800 active Farc rebels, with approximately another 10,000 people on the margins of the group.