Guatemala Rios Montt genocide trial to resume in 2015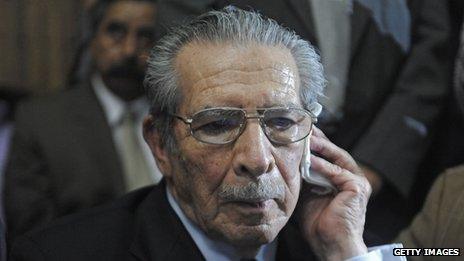 The trial of Guatemala's former military ruler Efrain Rios Montt has been scheduled to resume in January 2015, officials say.
Gen Rios Montt, 87, was convicted of genocide and war crimes in May and sentenced to 80 years in jail.
But the conviction was overturned by the constitutional court, which argued Rios Montt had been denied due process.
A court official said that the judges were busy with other cases in 2014, but would resume the trial in January 2015.
A lawyer for the families of victims of Gen Montt's regime, Hector Reyes, said he hoped the trial could be restarted earlier.
"We certainly see this as pushing back for a long time justice for victims," he said.
The guilty verdict had been hailed by the victims and human rights groups as "historic". It was also the first time a former head of state had faced genocide charges in a court within his own country.
But weeks later, Guatemala's top court ruled that the trial had been flawed.
The five-judge panel said that Gen Rios Montt had been left without a legal defence on 19 April when his lawyer was briefly expelled from the courtroom after he accused the presiding judge of bias against him.
They ruled that statements delivered in court before 19 April would stand, but that closing arguments would have to be given again, and ordered the trial to restart from that point.
Human rights group Amnesty International called the ruling a "devastating blow for the victims of the serious human rights violations committed during the conflict".
An estimated 200,000 people were killed in Guatemala's 1960-1996 civil war, the vast majority of them indigenous Mayans.
Gen Rios Montt's 17 months in power are believed to have been one of the most violent periods of the war.
He is accused - among other charges - of ordering the deaths of 1,771 people of the Ixil Maya ethnic group during his time in office in 1982-83.
He has denied any responsibility.