Seized Mexico cartel horses fetch record sum at auction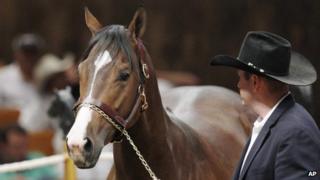 Racehorses seized during a raid on the ranch of the brother of a notorious Mexican cartel boss have sold at a record price at auction in the US.
FBI agents had seized more than 400 horses from Jose Trevino Morales's ranch in Oklahoma in June 2012.
Trevino Morales was found guilty of money laundering earlier this year and sentenced to 20 years in prison.
His brother Miguel Angel, who led the Zetas drug cartel, was arrested earlier this year in Mexico.
The last five of the hundreds of horses seized in the 2012 raid were sold at auction in Oklahoma City for a total of $3.1m (£1.9m).
Tempting Dash, a racehorse, fetched $1.7m - a record for the quarter horse breed at an Oklahoma public auction.
Prosecutors accused Jose Trevino Morales, 46, of running a multi-million dollar money laundering scheme in which which he bought, trained, raced and sold racehorses in the south-western United States to hide the illicit proceeds from the Zetas cartel.
In May, he was found guilty of conspiracy to commit money laundering. In September, a US district judge sentenced him to 20 years in jail.
His wife and daughter pleaded guilty to lesser charges.
The Zetas are one of Mexico's most powerful and ruthless criminal cartels, controlling much of the drug trafficking from South America via Mexico to the United States.
It was led until his arrest in July by Miguel Angel Trevino, who was captured by Mexican marines near the US border in Nuevo Laredo after a surveillance operation lasting several months.
He has been charged with murder, torture, kidnapping and other crimes.