Thirteen Mexicans killed in gun battles in Matamoros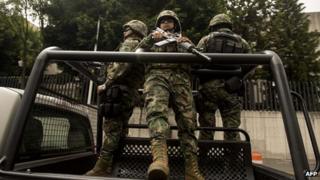 Thirteen people were killed on Sunday in gun battles in the northern Mexican city of Matamoros in Tamaulipas state, officials say.
Twelve men and one woman were shot dead in three separate clashes.
In two of the incidents, Mexican marines clashed with armed men, while in the third suspected members of rival gangs opened fire on each other.
Matamoros is on the US-Mexico border in an area disputed by the Gulf and Zetas drug cartels.
Four men and one woman were killed in the first shoot-out between two rival groups on the main highway leading from Matamoros to the city of Reynosa.
The second gun battle happened just hours later on the same highway, when members of the Mexican marine force gave chase to an armed group and killed four of them.
Four more men were killed in central Matamoros after they opened fire on marines, officials said.
Local media said the weapons and munitions found at the scenes of the shoot-outs suggested they belonged to organised crime groups.
The Zetas and the Gulf cartels have battled for years to control the lucrative smuggling routes through Matamoros, which is across the border from Brownsville, Texas.
Mexican forces in July and August captured the head of the Zetas, Miguel Angel Trevino Morales, and the head of the Gulf Cartel, Mario Ramirez Trevino.
Analysts had predicted a rise in violence as cartel members tried to fill the vacuum left by their leaders.
More than 77,000 people are estimated to have been killed in drug violence in Mexico since the then-president, Felipe Calderon, launched a war against the cartels in late 2006.