Mexico indigenous teacher Alberto Patishtan is freed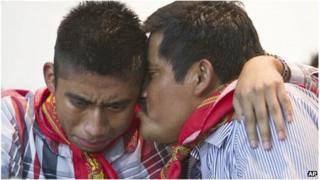 A Mexican indigenous teacher who had been in jail for 13 years for killing seven police officers has been pardoned and freed, under new powers granted to President Enrique Pena Nieto.
Alberto Patishtan, 41, was sentenced in 2002 to 60 years in jail but always maintained his innocence.
The government has since uncovered evidence that suggests "grave human rights violations" against him.
The teacher became the first to benefit from a new presidential amnesty law.
The bill, which allows for leniency in cases in which the prisoner's human rights are considered to have been violated, was passed on Tuesday and came into force on Thursday.
Mr Pena Nieto stated on Twitter on Tuesday that he intended to pardon Mr Patishtan.
At a press conference on Thursday, Mr Patishtan said he had never considered himself guilty.
'Innocent before God'
"They wanted to finish me off, but I am innocent before God's eyes and before myself," the teacher told reporters.
He also said he intends to carry on "fighting for his people", adding that he found that many prisoners in Mexico are only "poor, indigenous people".
The Tzotzil teacher was convicted for an ambush in the southern Chiapas state during the Zapatista rebel uprising, in which seven policemen were killed.
Human rights groups have since argued that Mr Patishtan's trial was flawed and beset by irregularities.
Hours before his release on Thursday, Interior Minister Miguel Angel Osorio Chong said his government admitted there was "consistent evidence of grave human rights violations".
The indigenous teacher has always denied the crime and his lawyers allege that evidence he was not at the scene of the ambush was not taken into account during his trial.
His supporters say he was set up as a scapegoat at a time when Chiapas was the scene of a conflict between the Mexican security forces and the Zapatista National Liberation Army, a left-wing rebel group fighting for indigenous and land rights.
Mr Patishtan is currently receiving treatment for a brain tumour.