Dominican Republic denies immigration ruling is 'racist'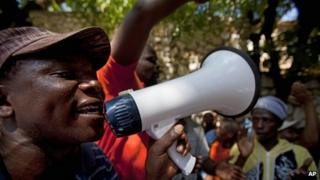 The Dominican Republic has denied that a ruling by its highest court which says that the children of undocumented migrants are not eligible for Dominican nationality is discriminatory.
Human rights groups have warned that it could leave tens of thousands of people of Haitian descent stateless.
But the Dominican Republic says it is trying to "regularise" the status of undocumented immigrants to its country.
It also said it would provide migrants with temporary resident permits.
International concern
Dominican Ambassador to London Federico Cuello Camilo told the BBC that there would be "no mass deportation" of undocumented workers from the Dominican Republic in the wake of the ruling.
The ruling by the Dominican constitutional court was issued in September in response to a case brought by the Dominican-born daughter of Haitian migrants, who had been refused a Dominican identity card.
The judges ruled that because both of her parents were undocumented migrants they were considered to be "in transit" through the Dominican Republic and therefore she was not automatically entitled to Dominican citizenship.
The decision caused an outcry among the country's 450,000 immigrants of Haitian descent, many of whom consider themselves Dominican and do not hold Haitian papers.
They called it "racist" and accused the Dominican Republic of discriminating against Haitian immigrants, who often work in low-paid and low-skilled jobs.
The office of the United Nations High Commissioner for Human Rights said it was "extremely concerned" as it "may deprive tens of thousands of people of nationality, virtually all of them of Haitian descent, and have a very negative impact on their other rights".
But Mr Cuello said the Dominican Republic was just "seeking to put its house in order" and that there would a plan to "regularise the situation of all migrants, no matter their nationality".
'Unwarranted fears'
He said that contrary to the fears expressed by human rights groups that undocumented migrants could face discrimination and even deportation, the ruling would be "a positive".
The ambassador said that undocumented workers would be issued with temporary residency cards and even those lacking documentation would continue to be given access to the country's health and educational services.
He said migrant workers would continue to be welcomed in the Dominican Republic, which "treasures their commitment to hard work".
The Dominican Republic and Haiti share the island of Hispaniola and since the beginning of the 20th Century, hundreds of thousands of Haitians have crossed into the neighbouring country, hoping to escape the rampant poverty of their homeland to work on Dominican sugar cane plantations and on construction sites.
Expensive documents
Confronted with the criticism by the UN and regional body Caricom that the constitutional court ruling could leave stateless hundreds of thousands of people who consider themselves Dominican, Mr Cuello said it was up to their countries of origin to issue their citizens with the relevant papers - and make them affordable.
"In Haiti, it's very expensive to get papers, and I don't see any NGO raising this issue in the international arena," he said.
"The Dominican Republic is ensuring that on our side of the border the procedures are transparent and non-discriminatory, and I hope this will lead our neighbouring authorities to do their part," he added.
Mr Cuello also called on the international community to look at why so many Haitians were leaving their country to find work in the Dominican Republic.
He said little of the money pledged around the world to help Haiti following its devastating 2010 earthquake had arrived.