Argentina court rules controversial media law constitutional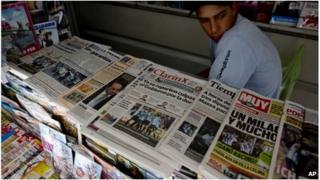 Argentina's Supreme Court has ruled that a media bill passed in 2009 is constitutional - clearing the way for the break-up of large media groups.
The country's biggest broadcasting and newspaper company, Clarin, had appealed against the law proposed by President Cristina Fernandez de Kirchner.
Critics say the bill is an attempt to silence opposition voices in Argentina.
Supporters say it will boost pluralism and reduce the dominance of big corporate interests.
Following the ruling, Clarin's share price fell nearly 6% and sales had to be suspended.
'Freedom of expression'
The group is expected to have to sell a number of lucrative radio and television licenses.
In a statement, the company said it was considering appealing to international courts.
"The most concrete proof of the true intention of this government with this law has been the enormous official colonization of media companies since its passage. Today, more than 80% of the broadcast media respond directly or indirectly to the authorities," the statement said.
A panel of Supreme Court judges ruled that the law had no unconstitutional elements.
"It is legitimate that a law sets general limits a priori, because this way it favours freedom of expression and prevents the concentration of the market," they concluded.
They also dismissed the argument by the Inter-American Press Society, an independent media association, that the law would endanger the media firm's business model.
Clarin has been involved in an open dispute against Cristina Fernandez de Kirchner's government since 2008.
The 2009 law stipulates that any one owner can hold a maximum of 24 audiovisual licenses.
It also bans TV networks from amassing more than 35% of the nation's viewers, and subjects the sale of broadcast licenses to government approval.
The Clarin group will be especially affected by a clause which bans ownership of more than one free-to-air and one cable TV stations and more than one radio station in the same city.
With its massive presence in the capital Buenos Aires, it is expected to be forced to shed control over many stations.