Hurricane Raymond prompts evacuation in western Mexico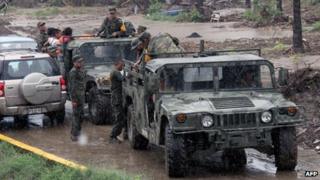 Hundreds of people have been evacuated from coastal communities in western Mexico that could lay in the path of Hurricane Raymond.
Raymond is currently stalled some 135km (85 miles) off Mexico's Pacific coast and has weakened to a category 2 hurricane.
But the authorities asked locals not to let their guard down as heavy rains continued and could set off landslides.
A hurricane warning remains in place from Tecpan to Lazaro Cardenas.
Torrential rains are forecast to continue for the next 24 hours in the western states of Guerrero and Michoacan.
The area is still struggling to recover after it was hit by Tropical Storm Manuel last month.
Manuel and Ingrid, another storm which hit Mexico almost at the same time, left more than 150 people dead and caused billions of dollars of damage.
The governor of Guerrero state, Angel Aguirre, warned that Raymond's movements were "erratic" and "completely unpredictable" and could still head towards the coast.
More than 1,000 people have been evacuated from villages clinging to perilous hillsides and schools remained closed for some 35,000 pupils.
In the aftermath of Tropical Storm Manuel an entire village was buried under a landslide in the mountains of Guerrero, and the memory of that disaster has made locals more wary.
A resident of Zihuatanejo, where forecasters said Raymond could make landfall, told the Agence France-Presse news agency she was not taking any chances.
"When I heard the mayor's warning on the radio, I didn't hesitate, I grabbed my children and went down in a civil protection truck," Bartola Hernandez said.