Remains recovered from fashion boss Missoni's plane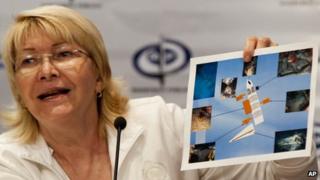 Divers searching for Italian fashion boss Vittorio Missoni have taken samples from five bodies they found in the wreckage of a plane in the Caribbean, Venezuelan officials say.
Venezuelan Attorney General Luisa Ortega said it could take up to a month to identify the remains.
But she said that the luggage found in the plane indicated they were those of Mr Missoni, his wife and friends.
The group disappeared on 4 January on a flight from Los Roques islands.
Mr Missoni, 58, his wife Maurizia Castiglioni, and their Italian friends Guido Foresti and Elda Scalvenzi had been on holiday on Los Roques.
Difficult recovery
They were flying back to Caracas when the plane flown by Venezuelan pilots Hernan Merchan and Jose Ferrer lost touch with the control tower some 10 nautical miles off Los Roques.
The last radar report showed the aircraft accelerating at a height of 1,650m (5,400ft) before it rapidly lost altitude and speed, veering to the right until it disappeared from the radar.
Following the plane's disappearance, investigators from the Italian Agency for Air Safety (ANSV) said the company that owned the small plane was not fully licensed to operate.
The plane's wreckage was spotted in June at a depth of 75m (250ft), but Venezuelan navy divers were only able to reach it over the past 10 days.
The divers said they also located a sixth body, but were not able to extract any samples from it because it was too difficult to access.
Ms Ortega said that the DNA tests "could take 48 hours, but also up to a month, depending on the quality of the samples".
Mr Missoni was the son of the fashion brand's founder, Ottavio Missoni, and co-owned the firm with his siblings.