Wreck of missing Mexican plane found in Baja California Sur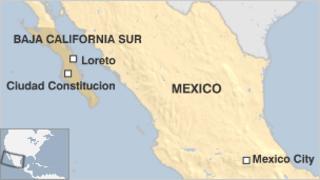 Rescue teams in Mexico have located a small plane that went missing on Monday, officials said.
"The Cessna Caravan with 13 passengers and a pilot was found. Unfortunately, no survivors," Transport Secretary Gerardo Ruiz Esparza wrote in his Twitter account.
The plane crashed in north-western Baja California Sur state amid bad weather caused by Tropical Storm Octave.
It was spotted by a helicopter that could not land because of the weather.
All the victims are believed to be Mexican.
The plane started its journey in the resort of Los Cabos, in the southern tip of the peninsula.
Three passengers who were on board went off in Loreto, also in Baja California Sur, before the plane took off for Ciudad Constitucion about 60 miles (97km) south.
It disappeared shortly after leaving Loreto. Repeated attempts to contact the pilot failed before the wreckage was found on the hills of Baja California Sur.
The search went on for more than 48 hours and was hampered by the tropical storm.
Seven states declared a state of alert ahead of the storm, which weakened and made landfall on Tuesday.
More than 100 people died in Mexico last month as a result of Tropical Storms Manuel and Ingrid.