Mexico plane missing as Tropical Storm Octave nears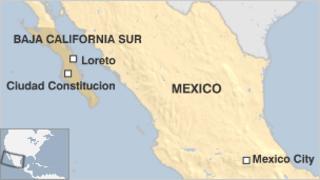 A small plane carrying at least 14 people has gone missing in north-western Mexico, according to officials.
The plane disappeared after it took off from Loreto in Baja California Sur state.
Bad weather caused by Tropical Storm Octave, which was approaching the Mexican coast, has reportedly hampered search efforts.
Seven states, including Baja California Sur, have declared a state of alert ahead of the storm.
"A Marine plane was going to go out but the conditions right now are no good for the search," Reuters news agency quoted Carlos Enriquez, head of Baja California Sur emergency services, as saying.
"We've suspended things until the conditions change."
The plane was headed for Ciudad Constitucion about 60 miles (97km) south of Loreto, Mr Enriquez said. Efforts to contact the pilot had failed.
There was no immediate information about the passengers on the flight.
David Korenfeld, director general of Mexico's National Water Commission, warned Tropical Storm Octave was expected to bring "significant rainfall" on Monday night into Tuesday.
The storm has maximum sustained winds of 50 miles (85km) per hour, according to the US National Hurricane Center.
It said the storm was expected to weaken and become a tropical depression by the time it nears the Mexican Peninsula.
More than a hundred people died in Mexico as a result of Tropical Storms Manuel and Ingrid last month.