Don't mention the 'F' word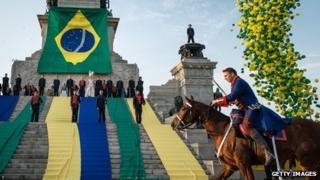 When Spain finally lost its grip on the vast empire in the New World, like eager young siblings desperate to flee the nest and finally get away from each other, the varied Spanish-speaking provinces in South America split and went their own way.
Despite attempts by dreamers with delusions of grandeur (notably Simon Bolivar in the early 19th Century and more recently Hugo Chavez) to create a Spanish-speaking super-state on the continent, that particular turkey was never going to fly.
Yet that equally large part of South America controlled by Spain's neighbour, Portugal, experienced a very different post-colonial fate.
The reasons why Brazil emerged largely intact as a single, united, nation, while the Spanish colonies fragmented are many and I'll leave those arguments for another day.
Suffice it to say what emerged on 7 September 1822 (when Pedro I declared independence from Portugal) has become one of the biggest, most diverse and most important countries on the planet.
Contradictions
Precisely because of its size and diversity it is difficult to "pin" Brazil down. It is a country full of every contradiction going.
For all the recent political and economic progress there is still rampant corruption. For all the visible gains made by women and ethnic minorities there is still widespread racism and sexual harassment.
Despite Brazil's emergence as one of the top 10 global economies, competing in hundreds of international markets, this is still a terribly frustrating place to do business, with bureaucratic hurdles and barriers that belong back in the 1970s.
A devastating survey by the Economist magazine recently slammed the current Brazilian government, and some parts of the private sector, for wasting many of the gilt-edged opportunities that previous administrations had gifted them.
The magazine, which had previously predicted great things for the world's fifth largest country, warned that unless Brazil changed its protectionist, uncompetitive and corrupt practices all the progress of recent years would be lost.
Many Brazilians didn't like what they read but most agreed it was spot-on.
All is not lost - far from it.
Big achievements
This is still a wonderful country that has achieved much since the dark, divisive years of military dictatorship. Brazilian companies, banks, aircraft manufacturers and multinationals sit comfortably at the top table.
Women occupy many top public and private positions in the country, including President Dilma Rousseff - still hopeful of re-election in 2014, despite a turbulent last few months.
And, in recent years, millions of Brazilians have been lifted out of the poverty net thanks to ambitious and costly government initiatives that have successfully linked improving diets with better school attendance and a more productive society.
In the next four years, the two biggest sporting events on the planet will take place here. In the arts, music and literature Brazilian names and performers are omnipresent on the global stage.
Under-reported region
Brazil shares a border with every country in South America, apart from Chile and Ecuador. Despite their different paths and experiences in the immediate post-colonial years, the nations that make up this vast continent of almost seven million square miles have much in common - good and bad.
Yet this is one of the most under-reported regions on earth.
In the newsrooms of North America, Asia and Europe you will rarely see stories from South America appearing on the front pages or in TV and radio headlines.
In some small way, it is my job to try and change that. As the BBC's new full-time correspondent based in Rio, covering Brazil and the rest of South America, with my small but eager team, I hope to bring a lot more of this continent to your attention.
It is a policy, I'm glad to say, being replicated by many other news organisations as we all belatedly realise the importance of establishing ourselves here and making sure people in other part of the world know and understand what is happening in South America - warts and all.
Over the next few years I'll be on TV, radio and, crucially, online, bringing you as much comment, reporting and analysis as I can muster on this wonderful country and continent.
All that without mentioning "football"… well, only once!