Colombian governor Kiko Gomez charged with murder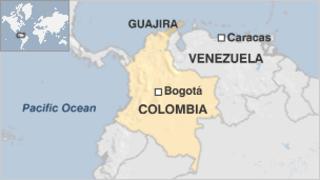 A regional governor in Colombia has been arrested on charges of murder and conspiracy, prosecutors say.
The governor of La Guajira province, Juan Francisco 'Kiko' Gomez, is accused of murdering political rivals.
He is also accused of links to right-wing paramilitaries and criminal gangs.
Local reports say the governor's supporters tried to prevent his arrest when police came for him during a festival in his home town of Barrancas, in north-eastern Colombia.
Colombia's deputy attorney general, Jorge Fernando Perdomo, said Kiko Gomez was linked to the assassination of a Barrancas town councillor, Luis Lopez Peralta, in 1997.
He has also been charged in connection with the murder of Luis Alejandro Rodriguez, and Rosa Mercedes Cabrera in 2000, said the prosecutor.
'Resisted arrest'
Kiko Gomez is also accused of criminal involvement with paramilitary groups in La Guajira, on Colombia's border with Venezuela.
The charges include links with Rodrigo Tovar Pupo, alias Jorge 40, commander of the right-wing United Self-Defence Forces of Colombia (AUC), said Mr Perdomo.
Colombian media reports say the provincial governor's supporters and local people in Barrancas surrounded his house to try to prevent his arrest.
He was later removed from the property in an ambulance, with undisclosed injuries, they said.
Earlier this week Kiko Gomez was charged with five counts of corruption, in a separate case.
In recent years, there have been frequent allegations of links between Colombian politicians and right-wing paramilitaries, who are accused of human rights abuses against civilians.
During the government of the former Colombian president, Alvaro Uribe, a process of demobilisation took place, under which thousands of paramilitaries gave testimony and handed in their weapons in exchange for benefits, including immunity from prosecution in some cases.
More than one hundred national, regional and local politicians were investigated for links with the AUC and other paramilitaries as part of scandal known as the "parapolitics". Dozens of those accused have been convicted.